I found a wonderful group of bloggers from my geographic area of the world:
The Northeast Bloggers
! Every Friday they do a Friday Five hop where blogs post list of five things - anything! So here goes my first Friday Five, things I love right now: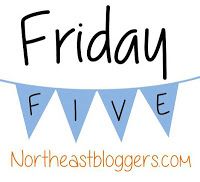 1.
I love my husband's heated jacket.
Having to go out in this bitter cold is never fun, and having to stand waiting for a bus for 15 minutes is even worse. I've tried the long johns and cordoray pants. I don't mind if my legs are cold, but if my body is, then I am cold. Hubby bought himself a DeWalt heated jacket for Christmas and graciously let me borrow it for this lovely weather we are having. (It is currently 2 degrees but feels like minus 12 degrees. Brrr....)
2.
I love spending time with my baby.
I just wish I could do more of it. Sigh.... But a working mom must do what a working mom does.
3.
I love my Keurig.
After going through a few coffee pots in a short period of time, we asked for a Keurig for Christmas. This is the best thing. Now there is no wasted coffee, we can have what flavor we want (even hot chocolate or tea) and there is no mess to clean up.
4.
I love mass transportation.
No more navigating traffic or accidents or stress of driving and the other drivers on the road. I can read a newspaper, catch up on Facebook, or write a blog post. With 30-45 minutes each way, it is a nice way to get into "work mode" and then out of "work mode" before I get home.
5.
I love being involved with my non-profits.
More and more I've been finding that I love spending time doing things that help the community. Whether it is connecting with other Niemann-Pick families (or other families with rare diseases) or helping at the Elks, I'm finding that I would rather do things that help others.
So there you have it. Five things I love on a Friday.